A Family-Friendly Back Yard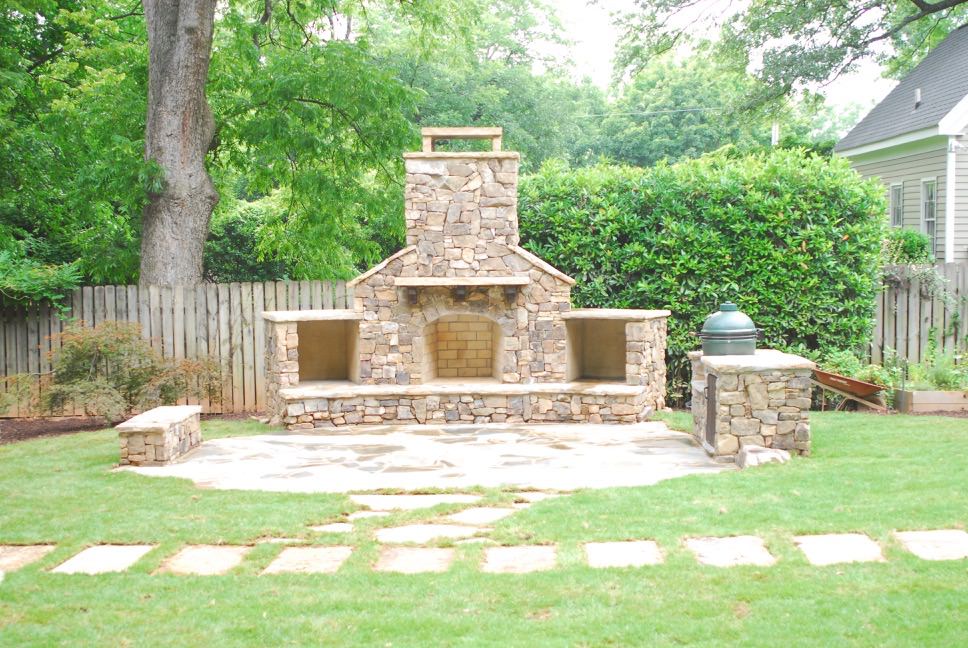 Transforming an outdoor space takes a lot of work and a lot of time — and a lot of vision.  Amanda & Ben Persons wanted their back yard to be a place where their children could play and adults could gather.  They live in a beautiful, historic Marietta home, and they wanted to extend their family's welcoming, fun-loving vibe right through their back door and into the yard beyond.
Here is a photo progression of their backyard transformation.  Take a look . . .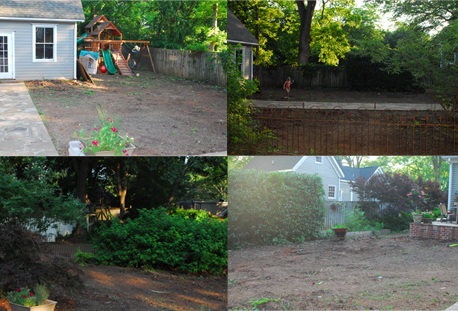 Once a design was chosen, we needed a clean slate to work with.  So started the demolition (and the mess).  It seemed like as soon as we broke ground, the rain moved into Georgia and our time line moved from a well-executed series of tasks to a constant game of waiting . . . for the sun to come out and for the rain to stop.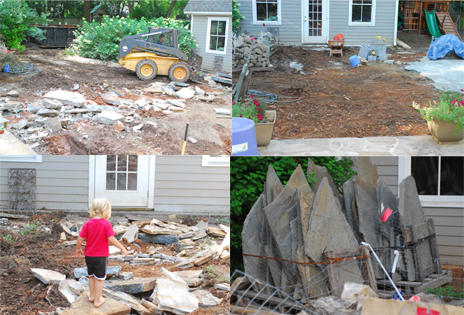 After the old yard was cleared out and leveled, the patio base and concrete block infrastructure for the fireplace area were begun.  We chose natural materials for this project  to ensure a more realistic and rustic appearance — Amanda & Ben wanted the structure to look old.   To mimic the historic home's authenticity, the natural faces of the stones were used, as opposed to chiseling the surface.  Our carpentry guru, Brian, even made a custom, distressed door to house grilling supplies, along with handmade, distressed wooden corbels for the mantle.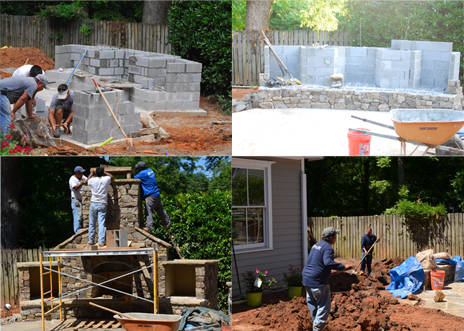 Amanda & Ben knew from the very beginning that the focus of their new backyard, apart from a place for the kids to play,  had to be entertaining.  That's why they chose to include a fireplace and a permanent home for their Big Green Egg.
We are very proud of the finished product, as you can see.  As for the Persons Family, they were a lot of fun, and we're thrilled to have been able to turn their backyard into something they can enjoy with each other and with friends and neighbors.